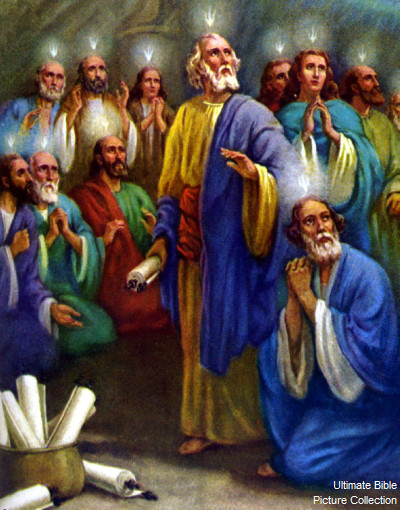 Holy Spirit: Power for Service
But you will receive power when the Holy Spirit has come upon you, and you will be my witnesses in Jerusalem and in all Judea and Samaria, and to the end of the earth.
Acts 1:8 ESV
The Holy Spirit is the Lord and giver of life: fully God working in the world bestowing life, empowering for service, purifying our hearts, providing God's presence, and guiding God's people. My story continues . . .
Later that morning as the team moved north, we began to walk down Commerce Street. We were very conspicuous in a crowd as we carried our Bibles in one hand and held on to our sleeping bags with the other. We turned and began to walk through a plaza where a number of executive-types were sitting on park benches eating sack lunches. Out from the crowd, a short, plump African-American lady stood up and yelled, "What are you boys doing?" We replied that we were from Lindale, Texas and we were out witnessing. At the top of her lungs, she cried out, "Have you ever been filled with the Holy Ghost?" I thought, "Oh, my goodness, we have got a live one." My team leader, who was standing front of me said, "Yes, I have." The team member bringing up the end said, "So have I." I thought, "Good, maybe she will leave us alone." Then without warning, the last member of the team shouted, "No, I have not!" I thought, "Why did you have to go and say that?" Immediately, she asked us to come over, so that she could pray for him.

This is the scene: four men in their early twenties knelling in front of a park bench as this lady is standing over the one young man praying loudly in tongues. She was praying very loudly in tongues. As she began to pray, I asked the Lord whether this whole thing about the fullness of the Spirit was for real. The denomination in which I was raised discounted the gifts of the Spirit. I told the Lord that I did not want to resist anything if it was genuine, even if it seemed a bit bizarre. At that moment, I began to speak in tongues. Very gently and without great emotion, the Holy Spirit began to touch my heart and bless me with the sweetness of Jesus. My emotions were so subdued that I wondered whether my ministry team understood what God had done in my life. I was experiencing for the first time, a fresh filling of the Holy Spirit with a manifestation of a spiritual gift. Already, God was answering my prayer from that morning; he was responding to my cry for his personal power, presence, and authority. Thank God for that little African-American lady who was willing to be bold for Christ.
Glenn E. Davis, "Who Is the Holy Spirit for Us Today?", Pilgrims on the Sawdust Trail, ed., Timothy George (Grand Rapids, MI: Baker Academic, 2004), 90.