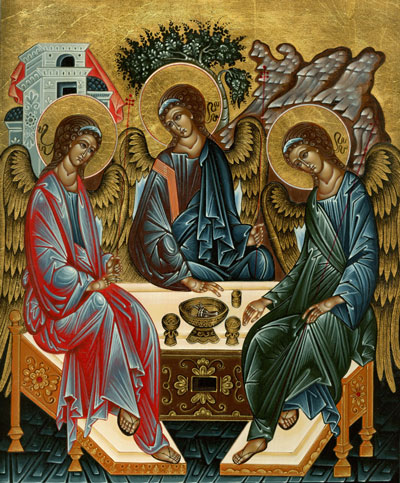 All the Members of the Trinity Want You Holy
The grace of the Lord Jesus Christ and the love of God and the fellowship of the Holy Spirit be with you all.
2 Cor. 13:14
The Father is the Heavenly Vinedresser, the Son is the Vine, and the Holy Spirit is Life itself (John 15: 1-4, 7:37-38). The Father outwardly prunes, the Son indwells us, and the Holy Spirit works through us.  The Father sovereignly directs our circumstances, the Son's work redeems the circumstance, and the Holy Spirit transforms us in the midst of our circumstances. In short, the Father directs, the Son performs, and the Holy Spirit applies. The Holy Spirit does in us what the Son did for us on the Cross by the will of the Father. All three persons, the Triune God of grace, wants you and me to be free. Free from sin. Free from guilt and shame. Free to enjoy the eternal, unconditional love of God.
The Father is intimately involved in our lives so that our circumstances train us in godliness. The Son has set us free from both the penalty and the power of sin so that we now live under the reign of grace. The Spirit gives us a new attitude toward sin and a new power to change.

The combined forces of the Trinity are at work in our lives to set us free and make us holy.
Tim Chester, You Can Change (Wheaton, IL: Crossway Books, 2010), 53.
Jesus Christ cannot begin to do anything for a man until he knows his need; but immediately he is at his wits' end through sin or limitation or agony and cannot go any further, Jesus Christ says to him, Blessed are you; if you ask God for the Holy Spirit, He will give Him to you. God does not give us the Holy Spirit until we come to the place of seeing that we cannot do without Him (Luke 11:13).
Oswald Chambers, The Shadow of an Agony [CD-Rom] (London: Marshall, Morgan & Scott, 1934).
HT: Of First Importance